Published on 07 April 2023
Vitafoods Europe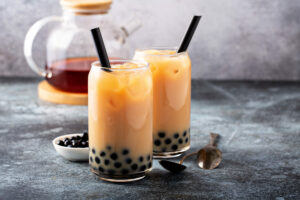 We will be present at Vitafoods which takes place in Geneva, May 9-11!
Save the date and come to meet our teams to discover our new healthy concepts on our booth #G100!
If you want to surf on the self-care trend, come to discover our Lactium® bubble tea, a "serenity" peach flavoured green tea enriched with Lactium®, combined with sweet mango bubbles!
The press is unanimous, mental well-being will still take central stage in 2023 self-care trends.
Self-care has expanded beyond just pampering oneself. It also includes actively taking time to rest, recharge, disconnect from technology and reconnect to oneself.
Lactium®: a natural ingredient to help manage stress and sleep disorders
With no addiction or side effects, this natural milk protein hydrolysate contains a bioactive peptide with relaxing properties called alpha-casozepine.
In 2021, a consumer satisfaction study on 338 volunteers also showed an overall 78% satisfaction, quite evenly split in 78% for action on moderate stress and 77% for action on sleep disturbances.
Read our Press release on Lactium!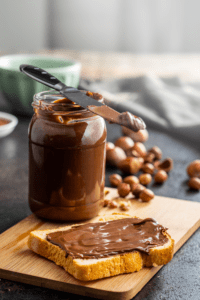 Another new concept to discover : Spread Up, a high-protein Choco Hazelnut spread (more than 20% protein) both tasty but also reduced in sugar, without palm oil for a healthier product.
It can be eaten on bread, pancakes or even with a spoon! At breakfast to boost your protein intake for the day or at any other time of the day as a snack and delight your taste buds.
Our protein PRODIET® Creamy: a unique native micellar casein provides a high level of slow protein for muscle synthesis as well as BCAA (Branched Chain Amino Acids) and Calcium. Thanks to its functional properties, the spread is both creamy and very easy to spread.
For more information contact us!