Published on 14 December 2021
Proud to be the first dairy cooperative doubly labelled in its CSR approach!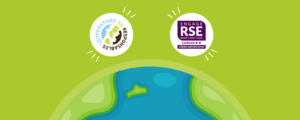 Following the first evaluation of its CSR approach by AFNOR, we receive on 9 December 2021 two new labels:
This is for us a proud to become the first dairy cooperative to be doubly labelled in CSR approach. This result attests to the maturity of its CSR approach, introduced in 2015 and included in the Sustainable Development Objectives initiated by United Nations.
This is with all the individual efforts of each person that we obtain these excellent results.
Discover our commitments here