Published on 01 December 2022
We have obtained the ISO certification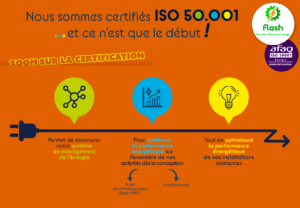 Recognition of a commitment to energy performance
«We are very proud of the achievement of this ISO 50001 certification which is the result of the work and commitment of our teams. This certification rewards the vision of anticipation of our cooperative group, a vision that we pursue every day in our choices and actions, not only on energy performance but also more broadly in our commitment to the social and territorial responsibility of our company".
Sandrine Delory, Managing Director of Prospérité Fermière Ingredia.
Obtaining this certification is the culmination of extensive work that started at the end of 2019 by the Prospérité Fermière Ingredia teams, and continued at all costs despite the challenges linked to the COVID-19 crisis. The deployment of this standard was identified as a priority to be integrated into its overall QSE (Quality/Safety/Environment) approach.