Published on 19 June 2021
Webcast: how can micellar casein help in sport performance and recovery?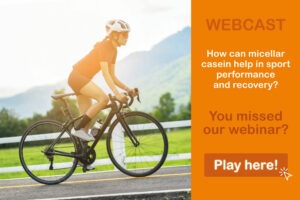 Performance improvement is associated with muscular development. A good training and an adequate nutrition are essential. It must provide sufficient amount of protein ; micellar caseins truly represent a high-quality ally.
Faced with these challenges, Ingredia offers solutions to meet targeted nutritional needs and technical support during your product development with our range of nutritional milk proteins PRODIET®.
During this webinar, we discuss about:
Market data on sport nutrition: a promising market
Protein, a key ingredient for sport nutrition
Ingredia's solution for ready-to-drink in sport nutrition
Our data on amino acid release for better recovery.
Watch the webcast here!