Salon
Pet Fair Shanghai 2023
to Shanghai (China)
Pet Fair Asia is the largest exhibition for pet supplies in the world, and a leading innovation hub for the international pet industry. The event gives a significant importance to Asian markets and proposes a wide coverage of the supply chain and sourcing needs.
Stress can take a serious toll on your pets. Their overall quality of life is at stake when they are dealing with emotions and feelings that are difficult to manage.
Lactium®, a natural ingredient to help manage stress and soothe pet, will be showcase at this event.
This bioactive gives the chance to better meet pet's needs for a more harmonious life together.
Register for this event here!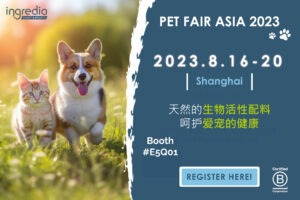 Salon
Vitafoods Asia – Bangkok
to Bangkok (Thailand)
Vitafoods Asia 2023 will bring you exhibitors across Ingredients & Raw Materials, Branded & Finished Products, Contract Manufacturing & Private Label, and Services & Equipment. Meet over 1 100 leading exhibitors from across the industry's 4 sectors.
This event is a chance to network, share ideas, source innovative ingredients, discover new products, hear from thought-leaders, discuss the latest trends and reconnect with a community that will never stop working together for the good of global nutritional health.
Some figures:
+600 international suppliers 
+21,000 business leaders
Ingredia will showcase its range of nutritional and bioactive ingredients for Health.
Register here for the event!
Meet our team Booth #I35