Salon
Webinar: Proferrin and sport: how can lactoferrin support athletes' immune system?
to Online
Today, sports nutrition consumers expect more than simply gaining muscle mass through sport.
Knowing that intensive sport practices can damage one's immune system and iron balance, athletes take more and more interest in nutritional products with larger health benefits, such as immune protection.
The beneficial effects of lactoferrin on anemia and immunity have nowadays been proven. Formulating end-products with this ingredient will enable you to meet this increasing consumer demand.
Join the webinar and discover the benefits of lactoferrin for athletes!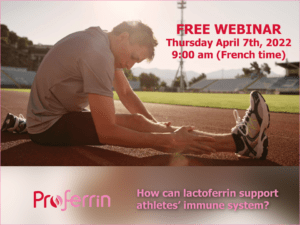 Salon
Bakery China
to Shanghai
Bakery China is the Asia Pacific's leading event serving the entire value chain for the bakery and confectionery market. The event presents all range of ingredient, equipment, packaging and services, and enables to meet and share the latest innovations for bakery industry.
Ingredia will be present with its brand Prospérité. Prospérité UHT milk is ideal for the preparation of bakery products. With its premium full cream milk for perfectly unctuous, soft texture with a delicious milky taste, to get crepes, pastry, bread, etc…
Register at the event here!