Salon
CPhI North America – Philadelphia
to Philadelphia
CPhI North America is taking place in Philadelphia in 2020. This event is the opportunity to showcase innovative products and services to the North American pharmaceutical supply chain.
Ingredia is presenting its natural dairy bioactives dedicated to health: Pep2Dia® an innovative bioactive to delay the onset of type 2 diabetes and Lactium® to stress management.
Meet us booth #2011
Register for this event here
Contact us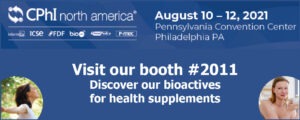 Salon
Nutriform Business Day France
to Saint-Raphael (France)
Nutriform' Business Days, are 3 days of sharing, presentation dedicated to international market of health supplements, scientifics solutions and marketing with the goal to develop business.
During this international event, Ingredia will showcase Lactium, a natural milk ingredient for stress management.
Attend our Business Meeting « La prise en charge du stress chez la femme », on Thursday, September 16th at 10:30 am (french time).
This presentation will be animated by Audrey Boulier, our Scientific and Innovative Manager for Bioactive.
Register for the event here.