Webinar on Healthy Ageing: growth request of protein in healthy ageing market
to Online
Elsa Trotier, Product Manager responsible for the range of nutritional proteins and Wenqian Sun, Nutritional Development Specialist at Ingredia, will discuss in a FREE webinar the growth request of protein in healthy ageing market.
Nowadays, population is getting older, in 2050, 2 billion of the global population will be more than 60 years (WHO). To support healthy ageing, many products are launched in senior nutrition. Most of them contain proteins. Seniors do not want to be categorized and want indulgent products as their counterpart.
Faced with these challenges, Ingredia offers solutions to meet targeted nutritional needs and technical support during your product development with our range of nutritional milk proteins PRODIET®.
Learn more and join us on Tuesday, November 24th, 1:45 P.M (French time) Save the date, register now!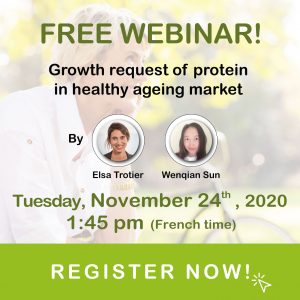 Salon
NutrEvent show
to Online
Ingredia is exhibiting at the famous meeting place dedicated to innovation in food, feed, nutrition and health: NutrEvent show. A virtual show because of health crisis.
Ingredia, event sponsor since many years, put forward specialised nutrition for seniors for the occasion! Discover our milk proteins and our natural ingredients for healthy ageing!
Attend our round table on January, 26th (2:00 pm) with our Specialist Audrey Boulier to learn more on our natural dairy-based ingredients!
Come to meet us and get in touch with our team members, visit our ebooth!
Register here!