Pet Food Forum USA – Kansas
to Kansas
Stress isn't just something that we human beings live with — even pets are living with the fear and anxiety that this condition causes.
Scientific studies assert that in many situations, pets mirror the stress and anxiety exhibited by their owners.
A stressful environment for owners is also a stressful environment for their pet.
Stress can take a serious toll on your pets. Their overall quality of life is at stake when they are dealing with emotions and feelings that are difficult to manage.
Lactium®, a natural ingredient to help manage stress and soothe pet, will be showcase at this event.
This bioactive gives the chance to better meet pet's needs for a more harmonious life together.
Meet us booth #330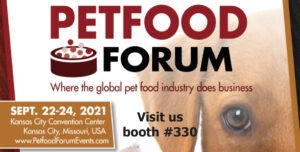 Salon
Vitafoods Europe 2021 – Geneva
to Geneva
Vitafoods Europe 2021 will be a hybrid event and it will bring you exhibitors across Ingredients & Raw Materials, Branded & Finished Products, Contract Manufacturing & Private Label, and Services & Equipment. Meet over 1 100 leading exhibitors from across the industry's 4 sectors.
This event is a chance to network, share ideas, source innovative ingredients, discover new products, hear from thought-leaders, discuss the latest trends and reconnect with a community that will never stop working together for the good of global nutritional health.
Ingredia will showcase its nutritional products for Healthy Ageing: Osteum® CPP and Prodiet® Fluid that help prevent sarcopenia and osteopenia, and also its cognitive product, Lactium® for stress management.
Meet us Booth #G100
Register here for the event